About us
Established in 1984, Homecare Personnel is one of the leading introduction agencies for live-in carers working across the UK and the Channel Isles.
We supply reliable care assistants who we know can deliver the care services, respect and kindness you expect. We always go the extra-mile to ensure that both you and your carer are happy with your live-in care arrangements.
Whether you've already decided on live-in care or you'd simply like some more information, you'll find our friendly, professional team is delighted to help. Call today on 023 8065 3017 or email care@homecare-personnel.co.uk.
We are members of the following organisations:
The Recruitment & Employment Confederation (REC) www.rec.uk.com
The United Kingdom Home Care Association Limited (UKHCA) www.ukhca.co.uk
We are regulated by the Care Quality Commission (CQC) www.cqc.org.uk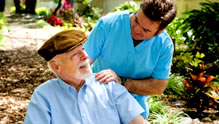 Are you a carer?
If your passion is caring, we'd love to hear from you.
Find out more