Paying for live-in care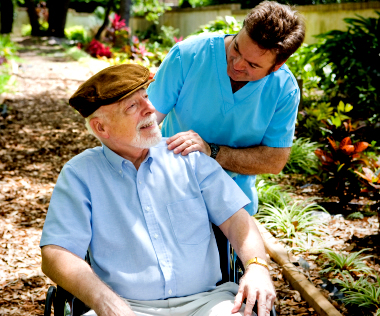 You may be surprised to learn that live-in-care compares favourably to the cost of residential and nursing homes and can offer better value for money than hourly care.
Our Fully Inclusive Care Packages range between £570 and £730 per week (inc VAT) depending on the level of care you require and whether you are single or a couple.
Funding live-in care
Live-in care is not just an option for those who can fund care privately. The government's 'Personalisation' initiative aims to provide those eligible to receive care from your local authority or the NHS, to be given a personal budget, in order to choose the type of care that's right for you.
You can put your personal budget towards live-in care fees and top-up if necessary. Find out more about funding live-in care here.
What will live-in care with Homecare Personnel cost?
We understand that the cost of care is a key factor in choosing between different care options.
Homecare Personnel is an introduction agency. That means that our carer's are self-employed and you would make a direct payment to them for their fee plus travel costs. We would then invoice you separately for our Agency Fee. If this is not convenient for you, we can manage all of the Carer's costs on your behalf with our Client Managed Account scheme. We agree a fee at the outset for a Fully Inclusive Care Package and we manage all payments to the Carer's on your behave. We then invoice you each month at the agreed care package price. See Payment Options for further information.
> Fee table and payment options
> Funding live-in care
Payment Options
We offer two payment options to suit your requirements.
Direct payment
Carer's fees: Your carers are self-employed therefore we ask that you pay their fees and expenses direct to the carer every two weeks.
Agency fees: All agency fees are paid direct to the agency. You can either pay per assignment upfront (suitable for short-term or respite care) or we can send you an invoice on a monthly basis.
Client Managed Account
If you would rather not have the responsibility of making separate regular payments to your carer and the agency, we can agree a suitable fully inclusive care package and invoice you at the beginning of each month for the carer's fees and expenses and the agency fees. The service costs £30 + VAT per month.
It is also useful if you are receiving funding for care as the local authority will need this information when auditing.
"I am writing to thank you and the team for your sympathetic care and kind thoughts and also to thank you for the excellent service we have received from your organisation over the last five months. The willing, friendly and professional help by the Carers made it possible for my husband to stay in the familiar surroundings of our home for as long as it was possible. It gave me and the family much needed support. I will have no hesitation in recommending Homecare Personnel to anyone in need of such help."


Mrs N, Croydon